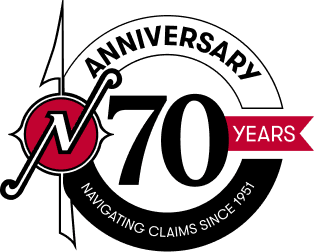 Northern Adjusters, Inc. (NAI) has seen plenty of change and growth in its 70-year history. But its spirit of adaptation, collaboration, and service has remained firmly intact since the business's humble origins sparked by one man's simple idea.
1951: The Beginning of Northern Adjusters
When Denver-based insurance agent Dean Stone decided that Alaska needed an independent adjusting business in the fall of 1951, he knew he could not do it alone. He hired two men to open an office in Anchorage, and the Alaska Adjusting Service was born.
The next year, Stone hired Jack Simpson, a recent law graduate familiar with insurance adjusting. In lieu of moving expenses, Simpson became the company's owner and eventually ran the business himself. Businessman Ken Shepherd loaned him $2,500 on a verbal agreement in order for Simpson to have operating capital. The company was renamed Northern Insurance Adjusters, with the slogan "Serving All Alaska." New offices opened in Fairbanks, Juneau, and Ketchikan, each working independently from the others.
1969-1983: Further Transformation
On April 1, 1969, brothers John and Jay Smith purchased the Anchorage office. Three months later, the name was shortened to Northern Adjusters, Inc. The small team of two adjusters and two secretaries included Jimmie King, who went on to be a shareholder in the company. Further branch offices were opened in Fairbanks, Juneau, and Kenai.
The Smiths' brother Reid joined the Anchorage office in 1974. A year later, Larry Staiger was hired to manage the Fairbanks office, where he continued until his retirement in 2006.
John Smith became a relentless driving force in giving the business a second wind, known for both his business savvy and extravagant way of life. He was a legend of sorts at NAI. He knew insurance and he knew how to live large. Both John and Jay were sports enthusiasts, sponsoring many teams and players. Over the years, their efforts led to several shelves of trophies for Northern Adjusters.
The dream to own an office building instead of renting became a reality in September 1972 when John and Jay Smith teamed up with Elmo Hill to buy and remodel a 6-plex on Arctic Blvd.
In 1976 and 1977, NAI made an effort to open a branch office in Kodiak. More of an outpost than an office, it only lasted a few months, partly due to the death of the marine surveyor who had been hired.
1983-2005: Decades of Change
On January 1, 1983, Reid Smith, Dane Havard, Larry Staiger, and Jimmie King, took ownership of the company and incorporated an employee-oriented management style.
On July 11, 1985, a groundbreaking ceremony was held for a new office building. The existing 20 employees moved into our current home office on January 2, 1987 located at 1401 Rudakof Circle, which included a drive-through appraisal garage.
At that time, the property and liability claims adjusting services were NAI's primary revenue source. NAI also entered aviation claims handling with the expertise of Larry Larson, even purchasing a company airplane.
When Jimmie King retired in 1990, she reflected fondly on her time with NAI and optimistically looked towards its future.
"I'll remember all of you," she said. "But mostly I will remember my partners – Reid, Dane, Larry – and the fine relationship we shared. We are each very different individuals that contributed something in a special way. We may have disagreed on some things and may have made mistakes. But I believe there was a feeling of honesty and complete trust in each other. This is rare in the business world today, and I have been lucky to have been associated with such fine gentlemen. The business is in good hands. May it ever continue to be."
Reid Smith retired in 1994, with Dane Havard and Larry Staiger becoming 50/50 partners, and Dane assuming responsibilities as President. Reid's retirement marked a notable decline in volume for the P&C department. The auto market began moving more claims in house and eventually more auto appraisal business to body shops.
At the same time, the workers' compensation department, which had been a one-man show in the 1980s, grew to three adjusters and expressed an interest to grow. As the 90s unfolded, new carriers emerged in the market and the WC department saw steady growth, expanding to five workers in 1994 and 34 by 1998.
2005-2021: New Ownership + New Employee Focus
On July 1, 2005, Dane Havard and Larry Staiger transferred NAI ownership to Susan and JD Daniels. Dane remained as President until June 30, 2006, when Susan Daniels took the helm.
In 2016, JD and Susan Daniels transitioned ownership of the company to become an 100% Employee Stock Ownership Plan (ESOP). We continue to believe that our people are our greatest asset.
As of January 1, 2021, NAI employs 25 staff members. All claims are centralized from our Anchorage home office. We have 13 active workers' compensation adjusters and two active P&C adjusters. NAI manages to attract and retain top adjusting talent through the strength of our team and through ongoing trainee adjuster development, contributing to more sustainable industry resources.
We remain committed to community stewardship, most recently serving on the Founding Board of nonprofit Kids' Chance of Alaska in 2020, aimed at providing scholarships to the children of seriously or fatally injured Alaskan workers.
Join NAI as we continue to evolve and endure and celebrate 70 incredible years. We look forward to a future of impact and service in Alaska's diverse claim handling culture and environment.